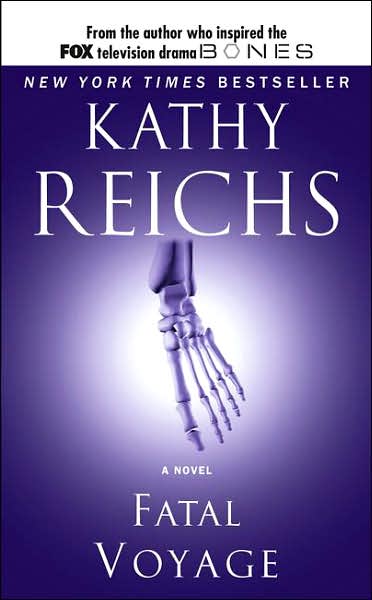 She has a passion for the truth . . . and this time, it's taking her down.
A commercial airliner disaster has brought Tempe Brennan to the North Carolina mountains as a member of the investigative agency DMORT. As bomb theories abound, Tempe soon discovers a jarring piece of evidence that raises dangerous questions -- and gets her thrown from the DMORT team. Relentless in her pursuit of its significance, Tempe uncovers a shocking, multilayered tale of deceit and depravity as she probes her way into frightening territory -- where someone wants her stopped in her tracks.
-Chapters Canada
As per the usual, Kathy Reichs totally won me over (which is not that hard, having fallen in love with her other amazingly great novels; find the reviews here!) with her amazing prose, stunning mystery, and realistic romance. I love Kathy Reichs' novels, and Fatal Voyage was no different.

This time Tempe is dealing with a mass death toll from a plane crash, which was interesting to learn about by itself. Of course, there was a second aspect to make me more interested: a murder. The personal, professional, factual, and mysterious aspects were remarkably linked throughout the novel, and there really was never a dull moment. Once again we see Andrew Ryan (swoon) and he is incorporated to perfection. He always keeps me yearning for the next novel :)

The way that the book unfolds is of course enlightening, entertaining, and just plain amazing. Without giving too much away, the answers Tempe finds and the overall denouement were fascinating and so good. I cannot wait for the next book!
Already half-way through it--Cheers & Enjoy♥