Part II
Ok, so I didn't learn how to Dougie (although maybe in future?), but last night I did happen to click over to MTV to catch the
MTV Movie Awards
, and some awesome upcoming Book to Movie sneak previews!
First of all, cute as a button Emma Watson presented us with a new clip of
Harry Potter and the Deathly Hallows Part II
, which was so cool! My most favouritist scene, when Harry goes to die. Epic!
Then, towards the end of the broadcast, our favourite Twilight hotties (ok so maybe I'm the only one who likes them :| ) took the stage to show the World Premiere of the
Breaking Dawn Part I
movie trailer! (which I did not happen to catch earlier in the day, since it was leaked.... nope, not at all...)
All in all, a great night for sneak previews!
And also a good night for
Twilight Saga: Eclipse
, since it seemed to take, like, all the awards (except for Jaw Dropping Moment, which went to Justin Bieber. ?!. Soooo, let me get this straight.. Justin Bieber singing some rando song in his movie about singing, was more jaw dropping then James Franco cutting off his arm, and Natalie Portman self-mutilating??) Anywho, those Twilight actors (with the exception of Taylor Lautner. Always
Taylor Lautner
. Yum. Taylor Lautner :) were pretty flipping hilarious, if only because they are so awkward. I mean K-Stew has always been pretty hard to watch in real life, but it's part of her charm, she's down to earth and doesn't give an F. But Pattinson? He was the most awkward of them all! His first award could have been chalked up to the fact that he wasn't expecting it. But then the second, he ran off the stage and kissed Taylor Lautner, only to return and tell Kristen that he was going to 'take her back-stage' in a very 'I wanna bone you' manner. I wish they would just out their relationship already and stop playing mind games with my very gullible mind! So then Pattinson went on to award
Reese Witherspoon
the Generation Award with Patrick Dempsey and Chelsea Handler, which was almost too brutal to watch. Made for some good entertainment though. I mean,
Robert Pattinson
missing the punch line of his own joke, and ending up saying, "Well then I fucked her" about girl-next-door Reese was pretty funny. Only to be outdone when Reese had to correct him, saying that the punchline was that Rob playing Reese's son in Vanity Fair (apparently the part got cut) and then her lover in Water For Elephants, makes Rob 'the best Mother-Fucker in Hollywood!"
Which you have to admit, is pretty funny, am I right?
So the rest of the show wasn't bad.
Jason Sudeikis
hosted, and he is one of my favie favie funny actors from SNL and other movies. He seemed pretty funny, even though he did try to crack too many Arnold Swarzt-en-whatever jokes, which were not well received by the crowd. The intro that was a spoof of The Hangover Part II was pretty hilarious, Taylor Lautner (break to drool) being the one who goes missing. And he had some self-written songs about some of this year's movies, which were pretty funny.
My favourite part though, would have to be when he smoothly slipped in the little tidbit about being a father soon. Is this a reference to his ex
January Jones
being pregnant, and refusing to name the Baby Daddy? I hope so. I think that they would be so cute together. I love them both, and his funny would balance her beauty perfectly, in my opinion!
Also another great moment from the show was youngin' Alexys Nycole Sanchez, who won the award for Best Line From a Movie. Her acceptance speech was super-adorable and she ended with her line, "I wanna get chocolate wasted!" So cute!
Ok, so moving on. In other news, I have recently made some
amazing food
and I wanted to share some of the awesome deliciousness with you (mostly just wanted to brag actually-tehe). I was most recently busy whipping up, like, a hundred, cookies for a bake sale at work, and might I say that they were super-yum-o, and a huge hit! I also tried out making scalloped potatoes for the first time, which were pretty much a huge success, even though I forgot an important ingredient, 2 cups of cream. Oh well, next time I shall try it with the cream, and let you know which one is better. With the potatoes, I enjoyed ham, made in the crock-pot, marinaded in my amazing homemade BBQ sauce. And finally, probably the most popular, my recently discovered, original Holly recipe: Mac 'n' Cheese. (Which, for the record, I am still eating, and already fed about 6 people at work. And may or may not be eating right now. Huhhuh. See what I did there. Intriguing, no?). So if anyone wants the recipes, just comment below. You might also be able to see them at Cait's kick ass recipe blog
Smorgasbord of Recipes
(which is newly launched, along with her new book blog
Reading In Love
-check 'em out!)
Along with melting our apartment from the oven being on constantly, I have also managed to catch a few
movies
. YAY!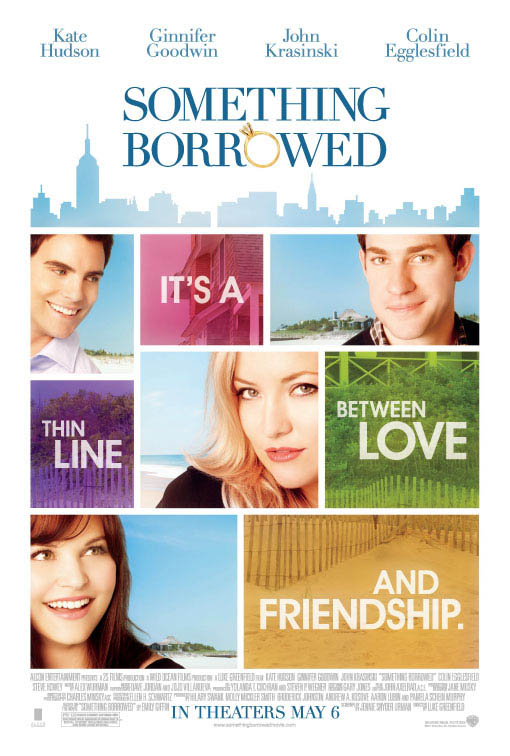 Something Borrowed
is another Book to Movie fantango which stemmed from the book of the same name by Emily Giffin, (one of my favourite authors). This movie boasted so many good celebs and definitely did not disappoint. It is such a good summer movie, and it goes without saying that if you liked the book, I think you will love the movie. They did such a good job with the adaptation, and some of the scenes between Ginnifer Goodwin and Kate Hudson were just so funny and friendship chemistry was really evident between them. John Krasinski is always cute and goofy, and really provided so much more for the movie than his role does in the book, and it was greatly appreciated :)
Bridesmaids
was a smash hit that was funny and vulgar in all the right places! I knew that I had to see this movie as soon as I saw the preview. I absolutely luuurve Kristen Wigg in anything she puts her name on, and Melissa McCarthy has been keeping me in stitches since Gilmore Girls circa the year 2000! The film did not disappoint. It actually was so much better than I had anticipated. It was hilarious, and also not a bad story-line. And I definitely enjoyed the dorky goofball love interest, Chris O'Dowd. All of the characters were great actually, which is good in a movie, and I think that the writing was excellent. Never a dull moment! I recommend this to anyone who likes to laugh hysterically :)
I know what you're gonna say. And what all the critics said. You didn't like it. It was too similar to the first one. But really, I liked it. It was similar to the first one, but that's what you get, it's the sequel. And it was different enough for me to enjoy it. To me, the similarities added to the humour, and obviously they were on purpose. But all in all, the actors were still great, and the scenes were different enough to warrant new laughter. Bradley Cooper managed to be hilarious, cute, and swoon-worthy. Zach Galifianakis was creepy and random, just how we like him. And Ed Helms was just flipping hilarious! I must say though, I don't think I'll be visiting Bangkok anytime soon. Or, like, EVER! Overall, I admit the movie was similar yes, but if you wanted to see something different, then you shouldn't have rooted for a sequel. That would be called a completely different movie with the same actors!
Morning Glory
was an exceptional movie, and I can't believe I waited this long to see it! I absolutely love Rachel McAdams, and the other actors in it were amazing as well. It was funny, cute, and emotional in all the right places. Perfection! Probably the thing that I enjoyed most though, was the soundtrack. And of course it doesn't exist, because the world, apparently, likes to spite me! But anyway, the movie was incredible. Rachel McAdams does so many different kinds of movies, and I love her in all of them. This movie wasn't completely dynamic, but one that I will remember for years to come as being funny, down-to-earth, and inspirational! I just hope you didn't wait as long as I did to see it!
P.S. For more great movie reviews, check out this awesome blog dedicated to just that,
Myth's Movie Corner
!
Ok, keeping with the
movie
theme, there are also soooo many great movies coming out this summer, and I really wouldn't be able to live with myself if I didn't share them with you!
Just click on the link to learn all about the movie!
So I'm gonna start out with some movies that I didn't think I would want to see, but actually look pretty good. First of all
Thor
, which I know is already out, but I'm going to include it anyway because it looks so darn good! At first glance, this looks like some super-hero action movie that doesn't really interest me. But then I noticed two things: a) Chris Hemsworth-hubba hubba! and b) that it actually looked kinda funny, and it looks slightly romantic as well. This is a must-see for me!
Another comic-book, super-hero-ishy flick is
Green Lantern
, which also won me over for the same reasons! This one comes out
June 17th
!
Fright Night
, a new vampire movie coming out
August 19th
, was yet another movie that I rolled my eyes at until I saw the trailer. I mean, come on,
another
vampire movie? Can't we get over this already?! (There can only be one Highlander!) But then I noticed that it was rocking a pretty good cast, Colin Farrell & McLovin' (umm-yesplease!), and it looks pretty good for vampire-slash-scary movie. Hmm, we will have to see...
So now on to some movies that just look really good, coming out sometime this year.
Crazy Stupid Love
, a romantic comedy starring the likes of Steve Carell, Ryan Gosling and Emma Stone, to name a few!
July 29th
.
Bad Teacher
, a sure-fire raunchy-rom-com starring Cameron Diaz, Justin Timberlake and Jason Segel.
June 24th
.
Horrible Bosses
, a star-studded comedy with some of my all-time favs: Jennifer Aniston, Jason Sudeikis, Colin Farell, Jason Bateman, Jamie Foxx, Kevin Spacey, Jennifer Bowen, Charlie Day, Donald Sutherland and John Francis Daley.
July 8th
.
The Change-Up
, a cliche comedy that I'm hoping can still make me laugh in all the right places, starring Jason Bateman, Ryan Reynolds, Leslie Mann and Olivia Wilde.
August 5th
.
Friends With Benefits
, a rom-com that I'm hoping will deliver, even though it does seem oddly similar to
No Strings Attached
. Starring Justin Timberlake, Mila Kunis and Andy Samberg (swoon).
July 22nd
.
Monte Carlo
, with some of my favourite actors, this adventure rom-com is sure to have me laughing, smiling, and swooning :) Starring Leighton Meester, Selena Gomez, Katie Cassidy and Cory Monteith.
July 1st
.
Larry Crowne
, an understated romantic comedy that I'm sure will stand in a league of its own starring Julia Roberts and Tom Hanks.
July 1st
.
A special shoutout goes out to two movies coming out a while from now, but I just can't get them off my mind:
New Year's Eve
, the sequel to last year's
Valentine's Day
that boasts just as many celebrities, many of which hold a dear place in my heart: Zac Efron, Katherine Heigl, Lea Michele, Josh Duhamel, Ashton Kutcher, Sofia Vergara, Hilary Swank, Alyssa Milano, Sarah Jessica Parker, Halle Berry, and the list goes on! Look for this
December 9th
!
The Vow
, which looks like it could be my new favourite movie, boasting two Nicholas Sparks-worthy-actors and what promises to be lots of tears with a smattering of laughter. Look for Channing Tatum and Rachel McAdams in time for
Valentine's Day 2012
.
Well, I think that just about sums up the month of May. Stay tuned for a special Book to Movie related post with all of the movies that you thought were missing from the list ;)
Wow, that was long--Cheers & Enjoy♥