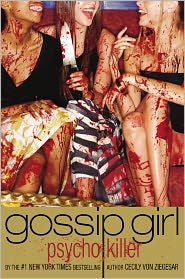 Yep, You see that correctly. That is the
Gossip Girl
cover, in all its creepy, gory, bloody weirdness. Apparently Cecily Von Ziegesar is much more far gone than I thought. After reading her last stand alone novel,
Cum Laude
, I was really questioning her sanity, since I absolutely LOATHED the book (read all about it
here
, along with some other abominable narratives). It seems she has really gone off the deep end. In case you are wondering, she has re-written the first installment in the already very messed up series about privileged teens living the high life in New York City. This time there will be blood. (Evidently!) So as I understand it, the girls, blonde bombshell Serena & brunette beauty Blair, will now resort to murder to further fulfill their every spoiled want and need. Even though I kind of find this revolting, I also say, "sign me up!". Obviously, I NEED to read this, whether out of sheer fascination or not (or also possibly because I have every other possible
Gossip Girl
novel in the franchise, including prequels, sequels, spin-offs, and quite possibly prequel-sequels. Anywho, I will keep you updated! Look for this one October 3rd! Here's a summary:
"

Welcome to New York City's Upper East Side, where my friends and I live, go to school, play, and sleep-sometimes with each other. It's a luxe life, but someone's got to live it . . . until they die.
So begins

Gossip Girl, Psycho Killer

, a re-imagined and expanded slasher edition of the first groundbreaking

Gossip Girl

novel, featuring all new grisly scenes and over-the-top gore by #1

New York Times

bestselling author Cecily von Ziegesar.
Just as in the original story, Serena returns from boarding school hoping to make amends with her BFF Blair Waldorf--things just haven't been the same since Nate Archibald came between them. But here's where our dark tale takes a turn: Serena decides that the only way for her to make things right with Blair is to eliminate Nate. If that means killing him, well,

c'est la vie

. Her attempted murder doesn't go unnoticed by Blair, however, who isn't about to let Serena kill whoever she wants-not when there's Cyrus Rose and Chuck Bass and Titi Coates and everyone else who's ever irritated Blair to get rid of first . . . .


American Psycho

's Patrick Bateman has met his match in Manhattan's newest, most fabulous trendsetting serial killers, Blair Waldorf and Serena van der Woodsen."
In other news:

*There has definitely been a trend with books becoming movies and TV shows recently (as if I need to say this again!), the latest additions being The Luxe series by Anna Godbersen, Warm Bodies by Isaac Morton, The Secret Circle series by LJ Smith, and The Lying Game by Sara Shepard. The former two are going to be movies, while the latter two are TV series' that already have shows in existence based off of different books from the same authors! I am super excited for ALL of them, but if you want to know more Book to Movie news, stay tuned for my Book to Big Screen feature. (And click for previous posts).

*If anyone is wondering where the Harry Potter Re-Read-a-Ganza! went, I am still planning on finishing it up, but due to the high volume of borrowed books (from both friends and libraries), I have a lot to catch up on, but promise to wrap it up in due time. So stay tuned for that as well. Also, I did happen to get early registration to Pottermore, so I will let you guys know all about the awesome-nosity as it happens to me :)

*There have been loads of great movies recently, and I have only seen a select few of the ones I've wanted to, mostly because I haven't had time to see all the ones that I want! Here are the ones that I've seen since mny last update:
Horrible Bosses was a pretty great movie, jam-packed with some of my favourite funny actors and lots of funny moments. The combination of Jason Sudeikis, Jason Bateman, Charlie Day (as the good guys) and Jennifer Aniston, Colin Farrell, Kevin Spacey (as the bad guys) was purely marvelous. I loved all of them, and they really showed their hilarious versatility in this comedy. I know we are going to be seeing lots more from new-comer Charlie Day, and I really hope to see Jennifer Aniston in more of these roles, because she completely pulled off the villain! The plot was pretty funny and the ending was also pretty great, with lots of funny scenes and dialogue in between. This was a perfect summer comedy and I can't stress enough how bang-on everything came together!
I saw Bad Teacher after that, thinking that it would be so funny, exactly how I imagined it from the trailers: funny-girl Cameron Diaz in a funny role and hilarious concept, with an amazing cast to back her up. Jason Segel. Justin Timberlake. How can you go wrong? Let me spoil it for you: it went wrong. It just seemed like one of those movies that shows all its funny parts in the trailer. And it was way more vulgar than I thought, which isn't usually a problem for me, but it kind of just seemed unnecessary. Don't get me wrong, the actors still did an amazing job, I just got the feeling that there wasn't a whole lot to work with. I kind of couldn't wait for it to be over. It was still funny though and I liked the ending, and loved Jason Segel. I guess it's just more of a rental movie than a theatre one.

Crazy Stupid Love. Wow. I loved this movie. I saw it most recently, and I cannot get it out of my head. I want to see it again. I wanted to see it again right after I saw it! And again, and again, and again! This movie was so amazing, and there are so many good things about it. I love all the actors. They all did amazing jobs, and were so convincing. I really believe that this movie appeals to all generations, due to it's relatability and separate yet involved storylines. There were also so many surprises (ones that even I
didn't see coming, and believe me, I pick up on a lot). And of course the movie was filled with hilarious parts. The dialogue, the scenes, the techniques. Everything seemed to add to the humour and authenticity of the movie. Steve Carrell was stellar, as always. Ryan Gosling. Yikes. Don't even get me started on this Canadian hunk-a-hunk. He was AMAZING in this movie, and acted superbly. He captured the essence of the character perfectly and makes me swoon everytime I think about it. He was funny and genuine and cute and sexy all at the same time, and I love him! The love stories portrayed throughout the whole film were so well done, and this movie really gets it, and has everything
going for it! A must see, and one of my favourites, EVER!
So I think that that's just about all that I have for now...
It is time to retire (to bed!)--Cheers & Enjoy♥