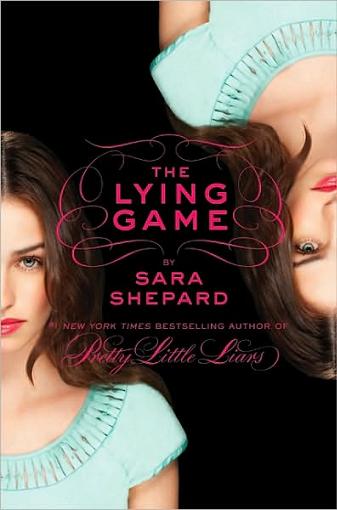 I had a life anyone would kill for.
Then someone did.
The worst part of being dead is that there's nothing left to live for. No more kisses. No more secrets. No more gossip. It's enough to kill a girl all over again. But I'm about to get something no one else does - an encore performance, thanks to Emma, the long-lost twin sister I never even got to meet.
Now Emma's desperate to know what happened to me. And the only way to figure it out is to be me - to slip into my old life and piece it all together. But can she laugh at inside jokes with my best friends? Convince my boyfriend she's the girl he fell in love with? Pretend to be a happy, carefree daughter when she hugs my parents good night? And can she keep up the charade, even after she realizes my murderer is watching her every move?
From Sara Shepard, the #1 New York Times bestselling author of the Pretty Little Liars books, comes a riveting new series about secrets, lies, and killer consequences.

Let the lying game begin. -Fantastic Fiction
I want to start out by saying that I love The Pretty Little Liars series, both in books (first) and in TV, therefore I love Sara Shepard. Before I read these books, I was a little puzzled as to why she would choose something so similar to the end of the PLL series, but as soon as I started reading this book, I realized it was completely different. It almost has a Lovely Bones vibe, which I love.
The mystery was pretty amazing, Shepard's usual M.O., and I enjoyed the narration by not only Emma, the living twin, but also Sutton, the dead twin. Very creepy... but entertaining nonetheless to see what both girls think of each plot development. I really enjoyed the romantic aspect as well, Emma having to deal with Sutton's current boyfriend (while Sutton watched, and finally explains the feelings she does know), and also the introduction to a new guy, Ethan, who is as broody as Garrett is preppy.
My only complaint would be that I didn't feel a whole lot of development, whether it be to do with characters or plot. I expected a little bit more to be revealed, but I guess I will have to just stay tuned!
If you like the Pretty Little Liars series, I don't know how you could pass this up, or even not have read it yet!
Spoiler Alert: Don't read past this point if you don't want to know specific book details!
The book starts off pretty intriguingly with us introduced to both twins: Sutton, just realizing she is dead and that she is invisible to her alive long lost twin, and Emma, who is just about to stumble upon the realization as well. So somehow the girls got separated at birth (which we annoyingly still do not know how, even after the book is done) and Emma got the shit end of the stick. She has been in the foster system her entire life, and has not been treated nicely pretty much ever. At first we don't know much about Sutton, as she doesn't remember anything about her life, but then things become clearer as the book progresses. Emma's trashy foster brother pretty much sets her up, and shows his mother (Emma's foster mother) what seems to be a snuff video of Emma getting choked unconscious, and then coming to. Obviously they think she's a freak, and just shows again how completely misunderstood Emma is, and affirms how crappy her life is. So clearly Emma is freaked because it appears to be her doppelganger, but is definitely not her. Thus beginning the investigation into her long lost twin sister.
So she contacts this estranged twin, and gets a reply back that she wants to meet her, although we know that this cannot possibly be Sutton, as we know that she is dead; her spirit told us so! This was definitely a very interesting aspect, and I loved that it was slightly reminiscent of
The Lovely Bones
. From then on Emma goes to where Sutton lives, and pretends to be Sutton (she thinks temporarily) when people mistake her for her twin. She tries to tell Sutton's family, but Emma discovers that Sutton lead a pretty sick and twisted life, and they just think that she is playing another one of her tricks. Also, Sutton's murderer contacts her and tells her that she better keep up the act, or she is killed next.
The story goes on and basically just confirms the notion that Sutton and her friends were pretty messed up, and not nice people at all. I found it kind of unrealistic, though, that if Emma was clearly so morally different from Sutton, how people would not notice that she wasn't the same girl. Just didn't gel with me... also that the apparition of Sutton, that is quasi-narrating the book, seems so innocent.. definitely leaves me with some questions that I hope are cleared up in books to come. And also that the book is called Lying Game, when I know this is referencing the 'club' that Sutton and her friends have, just to make glorified pranks on each other and unsuspecting victims. It kind of annoys me that this is the title, because it just didn't really seem all that important. Oh well, we'll see..
Overall, I have a slight feeling of disappointment because it did seem kind of predictable and every twist was so obviously not what it was made to look like. Like obviously it's not something so simple as her friends, or her sister. I guess I am willing to overlook this, and am hoping that things will get more intense and mysterious as the series progresses. I really do feel like there wasn't enough revealed though. Like when I think of what actually transpired, I feel like we are not much farther from where we were in the beginning. Like I'm hoping that we all realized from pretty early on that she didn't actually die by strangulation in the video, because right when the brother showed it to Emma and the foster mother, she came back to consciousness. So all we really discovered is that Ethan saved her, and now he can be her ally, seeing as how he is the only one who knows Emma's secret.
Pretty fantastic read, and I have high expectations for the series :)
More to come--Cheers & Enjoy♥